Mission and Goals
The Maslow Academy of Applied Learning is an educational partnership between master teachers, involved families, and children who challenge one another to grow through experiential and applied learning.
Maslow Academy on Hillcrest is an early childhood center. It provides education for children from six week to nine years, and includes children up to twelve years of age in the after-school and summer camp program.
Bright Beginnings at Colorado Outdoors is a separate infant, toddler, preschool program on Mayfly Drive at Colorado Outdoors. It provides loving, individualized care and education for children from six weeks of age through five years old. Learners can transition into the Maslow elementary programs once they finish their infant/toddler/preschool journey in the Bright Beginnings program.
Our Goals
for Our Students
Our vision for the Maslow Academy of Applied Learning is to foster a community where individuals are encouraged to reach their peak potential.
Students are provided with a safe, comfortable, nurturing environment where they can both fit in and stand out. Our teachers optimize each student's educational experience, and include ample time for experiential learning, exploring the arts, and physical activity. Students advance when they master the social and academic skills needed to reach their next level.
We want to challenge students to set and achieve goals that will, over time, provide them with the skills they need for a successful and fulfilling life. Our aim is to create happy, creative, and driven twenty-first-century citizens.
Both body and soul need to be nurtured; therefore, students are served healthy, tasty, made-from-scratch food for breakfast, lunch, and snacks, using locally produced ingredients whenever possible.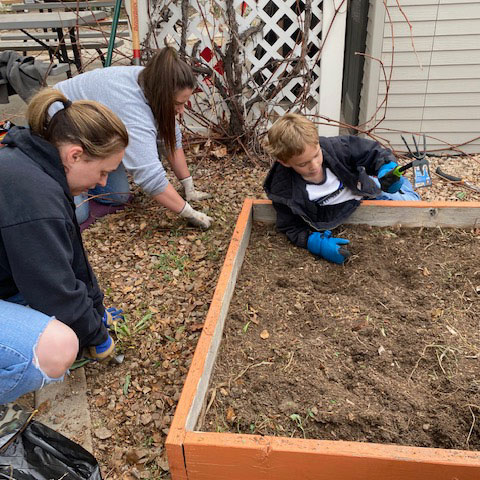 Our Goals
for Parents and Family Members
We encourage parents and family members to be actively engaged in each child's educational process. We want them to participate in both homework and academic events, and to volunteer as appropriate for each situation.
We believe that engaged family members connect our schools to the community they serve, weaving a complex tapestry of interconnectivity. Relationships between parents, children, and teachers enhance the learning experience and give back to the community.
Our Goals
for Our Teachers
Students are encouraged to recognize and celebrate their differences. Teachers and other staff members help students develop their self-esteem by understanding, identifying, and strengthening their unique gifts.
Our teachers are highly qualified and certified to teach all the ages and skill levels in our school. They embody life-long learning and serve as role models for their students through continuous professional development with advanced coursework, workshops, webinars, research, and other activities.
Governance
The Maslow Academy of Applied Learning operates as a non-profit, independent early childhood center and school governed by a board of trustees. These trustees employ the executive director and generate funding to support the school's programs. Contact us if you're interested in serving on our board!
Parent Action Council (PAC) and Volunteer Work
We are always striving to find ways to enhance our children's education, enrich their daily experiences, and give them new perspectives in life. That's why the Maslow Academy of Applied Learning and Bright Beginnings Parent Action Council (PAC) work to create optional support and funding opportunities for parents and community members to contribute in ways that add fun and value to their lives.
In order to build our programs and keep costs down, we asks that each family commit to volunteering at least nine hours of service per year. Parents or other family members can choose to be a part of our Parent Action Council (PAC), participate in garden clean-up, or help teachers in the classroom or at home.
Our goal is to nurture a greater sense of community and to provide options that will work for all families, no matter their circumstances.
Our family-volunteers have helped make our campus better each and every year! Thanks to the support of parents and community members, some examples of items we have been able to fund are: playground tricycles, listening center programming, planter boxes for the garden, and dramatic play items, materials, and activities.
Please help us to continue our efforts and offer our children the experiences they deserve! PAC plays a vital role in the success of our school and is the main sponsor for our children's enrichment.
Join the PAC
Please contact the school to learn about the dates and times for our PAC meetings. Childcare is always provided for the meetings. We would love for you to join us!
DONATE TODAY!
Childcare and education centers are so critical to our community. They allow parents and guardians peace of mind while they work or pursue their education, and they offer our children an early opportunity to gain literacy skills and social interaction. In a rural community like Montrose, early childhood education is more critical than ever.
Did you know that Maslow Academy is a nonprofit institution? We rely on a combination of grants, tuition, and direct donations to keep our rates low and our standards for teaching high. It is through the generosity of donors like YOU that we can offer quality programs for all kids, no matter their family's financial circumstances.
Will you invest in our community today?
To donate send a checks to :
Maslow Academy
120 N. Hillcrest Drive
Montrose, CO 81401
Or donate online by clicking the link below:
Our Amazing Partners
Maslow Academy would not be the flourishing center of childhood care, enrichment, and education it is today without the help of our generous grant funders, sponsors, and donors. Thank you so much to everyone who has reached out to help our young learners!
Our supporters include: