Pre-K, 2.5-4 Years-Old
Goals and Class Details
Welcome to the Green Class (Pre-K, 2.5-4 years-old).
Get excited to watch your child take a major step in their educational journey!
The Green Class has a vast array of learning tools introduced to your child through hands-on activities and group activities that will enrich their social well-being and encourage their love of learning. It's time to show your child the beauty of world languages, reading, writing, and communicating, as well as science, music, dance, visual arts, and theater arts and drama.
We also introduce your child to the alphabet through fun activities that will form a strong set of foundational skills to prepare them to read and write.
Your child will also experience working with numbers and problem-solving as an introduction to the wonderful world of mathematics.
The Green Class mixes the challenge of learning new ideas with fun activities. This takes the stress out of learning and creates thinkers who want to explore.
We are very excited to have your child in our wonderful class!
RESOURCES: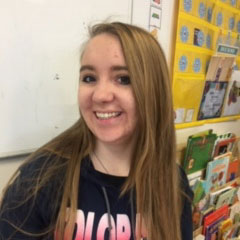 Learn About Ms. Shayli Hart
Hi! My name is Miss Shayli Hart and I am excited to be one of the Green Class teachers at Maslow Academy. I am looking forward to a year of learning, fun, and adventures. I cannot wait to learn all about you—but first, let me share a bit about me.
I was born and raised in Montrose, Colorado. I am 23 years old and love life.
My education has been full of interesting experiences. I went to five different area schools. My journey started in public school until 2nd grade; then, I was homeschooled for two years. I also attended a Christian school for a while, and was an online student until 10th grade.
I finished off my schooling in Montrose at Vista Charter school, graduating in 2015. After taking a year off to work before going to college, I went to Lexington, KY to a bible college for two-and-a-half years.
All these experiences have molded my view of education. I understand the meaning of individualized learning. Through my varied experiences, I can relate to all types of learners.
I have been with Maslow and Bright Beginnings for almost four years. I started off as a substitute, and have been a teacher in four different classrooms on and off during the summers, when not attending college.
There is so much that I am looking forward to this year! Some of the topics we will explore are pets, the ocean, plants, and families. We will also learn about colors and shapes and a new letter each week. We will read many books and hopefully find some favorite authors.
I cannot wait to meet you and start the school year!
A few of my favorite things:
Favorite color: Teal
Favorite season: Fall
Favorite fruit: Apples
Favorite restaurant: Chili's
Favorite drink: Dunkin
Favorite hobbies: Hiking with family
Favorite animal: Horse
Interesting fact: I have broken both arms a year apart!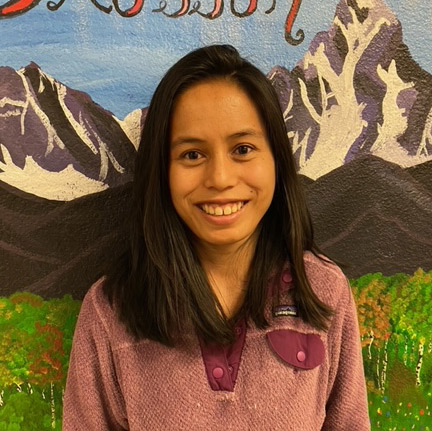 Learn About Ms. Jemletta Padua
I started working at Maslow in the fall of 2020, as a substitute teacher until the winter season started. I am working towards my early childhood associates degree. I left Maslow a few months back but recently returned because of the school, the support, and the number of talented educators in the building. I am currently working in prekindergarten class and I am really enjoying the experience. I am excited to see how much the kids grow in the next months. It is great to see just how much of an emphasis there is on kids, the environment that allows a teacher to grow, and to learn from challenging moments. I am happy to be here, and I am so thankful to know that I am valued as a teacher. I love the fact that we have teachers to work with side by side. It is not a competition but a goal to make the best of each day. Supporting each other and listening to new ideas to help us grow and be better for the young children we work with each day.
The 60 hours of observation I did for an education class in Guatemala at a Montessori school was an amazing experience. It taught me so much about the differences and similarities we share in our love for kids and their safety. It was also the first place I heard the iconic song 'Baby Shark' and now I hear it every day. As a teacher, you are told that it is not a job that pays well, however I find that I am much happier doing a job I love than not being happy. In my spare time, I love to play music mainly on the piano, violin, and sometimes I sing for fun. I enjoy improving my ability to write with both hands and am learning more about what dedication means and what hard work can do.
My own personal life, and my own adoption story puts many of the topics I study on a personal level. The emotional support infants need and how that is broken for the bigger picture of a forever family. The language barrier and how babies are so tuned into their environment that even 10 months of listening to English is considered for placement of where a child will end up. The importance of understanding how to help a child adjust and build those healthy attachments. To understand the history of loss a child carries from their biological family, and for myself the loss of my fraternal twin just weeks after being born.
Finding my biological family this past year has helped me see my identity better, and to realize even more so just how blessed I am to be where I am. I hope that my story of adoption and reconnection with my biological family can be encouraging for other adoptees to find their family if they desire to. My siblings say I am talented, and rich in their eyes. I know that is only because of the choice my biological mom made at age 19 when I was a baby, and her willingness to envision a better life for me and my brother. I realize that my life could have been vastly different. I could still be trying to finish high school and earning maybe hundred dollars a month working sixteen hours a day. I am even more grateful for my adopted family, and the chance to have education. Education helps no matter the form of a community college or a university but that it is the dedication and the hard work that matters. I hope the kids I work with will realize just how lucky they are to have a chance to learn and be in the United States.
Pre-K, 3-5 Years-Old
Goals and Class Details
Welcome to the Indigo Class (Pre-K, 3-5 years-old).
In the Indigo Class, we help children become awesome adults. In order to do that, we:
Treat children with respect
Give children the opportunity to do the tasks that interest them as often as they want
Make materials designed for specific learning goals
Smile and make positive eye contact with a child before a presentation or instruction of any kind
Show children the steps involved in doing a task or working with a particular material
Design materials and activities to encourage self-correction and development rather than having an adult correct the children
Observe the children to see how they use materials and what they need to learn
Modify materials and methods on the basis of these observations
Accept that not all children learn at the same pace
With this teaching style, your child will be able to learn at their own pace while enjoying the process.
The children learn from one another and throw themselves into their work with enthusiasm and delight. This atmosphere of quiet activity develops a fellow-feeling, an attitude of mutual aid, and most wonderful of all, an intelligent interest on the part of the older children in the progress of their little companions.
A DAY IN OUR INDIGO CLASS:
During the morning, we have circle time. This includes calendar, letter, and number recognition, counting, songs, and a read-aloud. Next, we move into table time and an activity that is based on our monthly theme, which might include subjects like math, language, science, geography, and art.
As the children finish their activity, we move into individual work that the children have already had lessons on, depending on their academic progress. We have materials ranging from preschool standards to kindergarten standards. The children learn life skills, mathematics, language, geography, and culture through hands-on materials.
RESOURCES: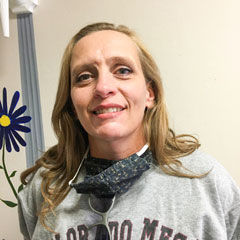 Learn About Ms. Julia
Hi, my name is Ms. Julia. I am so happy to be the lead teacher in the Indigo Class for the 2020/21 school year.
I have met some of you already, and others I hope to meet soon!
I have lived in Colorado for nearly twenty years. I am a happy mother of four, a wife of 27 years, a grandmother of five, and a pre-K teacher. When my oldest daughter had her first child, I realized that I was happiest around little ones. So, I became a bus driver for a few years.
After my youngest child had grown up, I decided to go to college and train for a new career. I went to CMU part-time here in Montrose and earned many certificates and awards.
During my student teaching, I volunteered here at Maslow Academy and at the Montrose County School District Head Start program. I quickly decided that Maslow was the place for me. I am proud to say that three out of five of my grandchildren attended this school, and my youngest granddaughter is almost ready to be number four to come here. I am really looking forward to this unique opportunity and getting the chance to watch your children grow and learn!
Academic Achievements:
Colorado Mesa University, Montrose, CO, 2013-2018
Dean's/President's Awards
ECE Entry Level Teacher Certificate
ECE Teacher Certificate
Other Certifications Include:
FEMA IS-0036 (Multi-Hazard Planning for Childcare)
EQIT (Expanding Quality in Infant-Toddler Care Initiatives)
Cultural Responsiveness/Family Engagement 1 & 2 (CO Shines)
Many other certifications through Pedialink, Bright Futures, CDHS, Colorado Shines & more
Pre-K, 3-5 Years-Old
Goals and Class Details
Welcome to the Blue Class for children in pre-K (ages 3-5).
Research shows that when behaviors are modeled for students in the classroom and then reinforced through praise and repetition, the students gain confidence faster and are better able to manage themselves.
Teachers will spend the first month of the year emphasizing these points as well as assessing each child's skill set so that, come October, we may transition smoothly into whole group, small group, and individualized teaching.
At this age, children are ready to embrace several new notions, skills, and abilities, and build strong social relationships. They have good body control, and can balance and use their body to achieve physical goals. They are also capable of understanding their own feelings, and interpreting and responding to others' feelings and emotions.
We see children set goals for themselves and strive to achieve them. This gives us great pleasure, because we know how much perseverance and self-control go into this effort.
By now, children understand English and can recognize letters and even some words. They can follow a book story and grasp sequences of events. We also see the first signs of logic and analysis of a problem. This is a precious moment for us, because we can perceive how these children will develop into independent adults.
Music, dance, drama, and theater come to complement children's understanding and approach to life in general.
RESOURCES: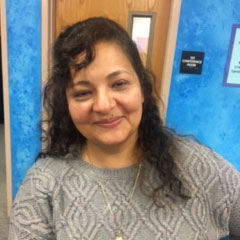 Learn About Ms. Erika Estrada
My name is Erika Estrada; I am married and have three wonderful boys. I lived in Chicago, Illinois for six years before moving to Montrose in 2005.
I love to read and find new things to learn. In my free time, I like to make crafts, sew, and crochet.
The first years are very important in the life of a child, and I enjoy the time that I share with them. Working with children is my passion.
I am bilingual (English/Spanish). I started my career as a volunteer at my son's school. After that, I taught Spanish to adults. Soon, I found an opportunity at the school district teaching infants and toddlers. I have been working professionally with young children for about 8 years.
I graduated with an Early Childhood Education teaching certificate from Delta Montrose Technical College.
I worked in the Orange Class at Bright Beginnings childcare for two years; the last school year, I got an opportunity to teach the Blue Class. This is my second year in the Blue Class, and I am very excited about the new school year.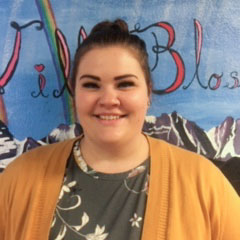 Learn About Ms. Leeann
I was born and raised here in Montrose, Colorado. I have been working with children of all ages for about 12 years.
My career at Maslow and Bright Beginnings began three years ago, and I've loved every minute of it. Currently, I am taking classes at CMU, getting my degree in Elementary Education. My passion has always been kids and teaching.
In my spare time, I enjoy being outdoors, traveling, and spending time with my family.
I have a wonderful, almost 4-year-old son named Weston, who is such a joy in my life!
I am so excited to spend the next school year with your child. We are going to have such a fun year full of learning, growth, and laughter.
I look forward to getting to know all the children and families in the Blue Class. It is going to be a great year!